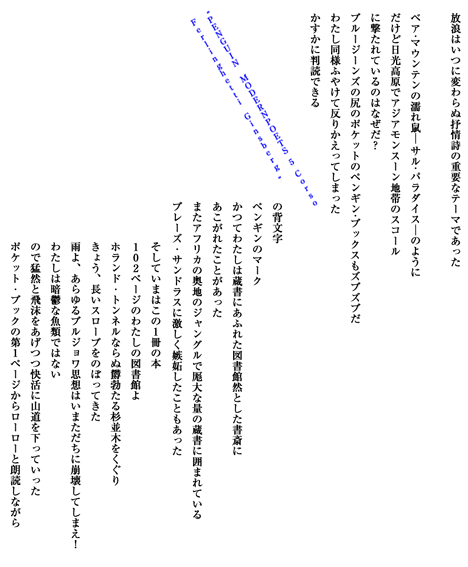 WANDERING WAS ALWAYS IMPORTANT THEME IN MY LIFE
(translated by the author and Marilyn Chin)
Like Sal Paradise,a mouse gets wet to
its bone at Bear Mountain.
But why amI,now,showered by
the Asianmonsoon
Which has already left Nikko Heights?
a Penguin Book in a hip pocket of
myblue jeans―
It's wet through and through.
It's sodden and bent,just like me.
The letters on its spine read
indistinctly,
PENGUIN MODERN POETS:GINSBERG,
FERLINGHETTI CORSO...
And the mark of the penguin printed,
of course.
Once I prayed for a study crammed with
books like a library.
Once I envied for Blaise Cendrars,whe
was surrounded
By an enomous collection deep in the
jungles of Africa.
Now this one book is my 102 page library
This morning,instead of going through
the Holland Tunnel,
I climbed a long slope and passed
A thick,Let all bourgeois thought be
washed out
Immediatery.
I am not a long-faced fish,merrily
Striding through vigorously.
Now,in my sonorous voice,I shall recite
from my pocket book―
The first page.